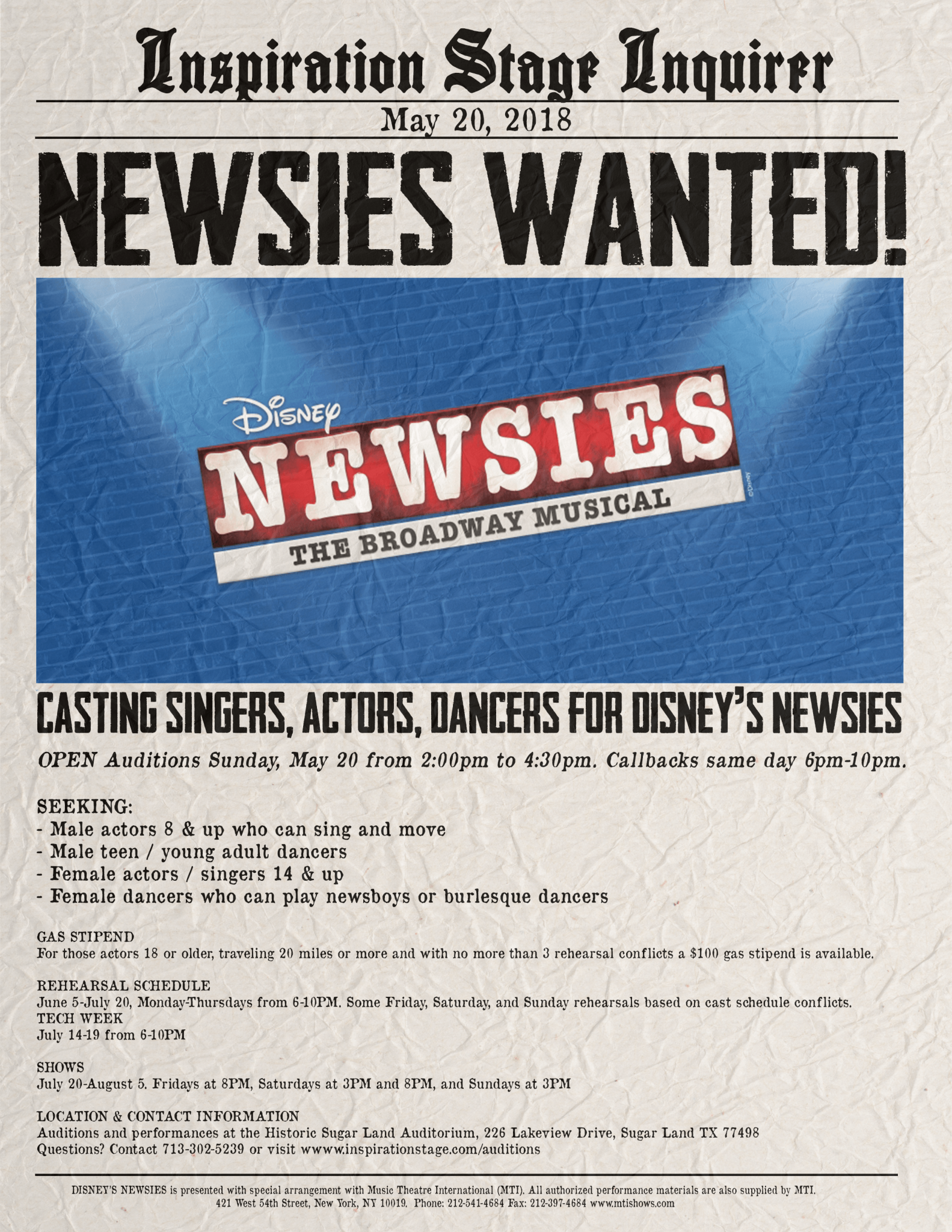 DISNEY'S NEWSIES (Adult/Teen/Youth)
---
Inspiration Stage announces OPEN auditions for our summer 2018 production, Disney's Newsies!
PRODUCTION TEAM:
Director/Co-Choreographer – Mandy Seymore-Sensat
Music Director – Brian Kay
Choreographer – Tyler Davis
Stage Manager – Annelea Bootle
AUDITIONS
Sunday, May 20 from 2-4:30PM at 226 Lakeview Drive, Sugar Land, TX 77498
Please prepare a song from the show or of a similar style. 16-32 bars. Bring accompaniment on your smart phone along with your headshot, resume and rehearsal conflicts. You may sing and leave. We will post those that we would like to see at call backs at 5PM on our Facebook page. Call backs are the same day from 6-10PM.
CALLBACKS
Sunday, May 20 from 6-10PM
These call backs are closed and only for those that we have asked to attend. Actors will participate in a dance call and readings/songs from the show. Please be prepared to stay for the entire process.
CASTING & WHAT WE ARE LOOKING FOR
Auditions are open. No roles are pre-cast. When casting the Newsies ensemble we will be looking for three types of actors – males who can sing and move, males who can sing and dance and males or females who are technical dancers.The choreography for this show is difficult and requires dancers who are technical, athletic and can tap or tumble.
AGES
We will be casting age appropriate actors for all roles.
Male actors – Any age male actor over the age of eight is allowed to audition by video. Remember Les Jacobs is 10 -15 years old.
Female Actors – Please see cast list and guidelines. If you are interested in being in the Newsies ensemble you must be 14 years or older and a strong technical dancer who can play a boy or burlesque dancer. Full cast list, along with age & vocal ranges can be found at https://www.mtishows.com/newsies-0
GAS STIPEND 
For those actors 18 or older, traveling 20 miles or more and with no more than 3 rehearsal conflicts a $100 gas stipend is available after final show strike.
REHEARSAL SCHEDULE
June 5-July 20
Monday-Thursdays from 6-10PM
Some Friday, Saturday and Sunday rehearsals due to cast schedule conflicts.
TECH WEEK 
July 14-19 from 6-10PM
PERFORMANCES: (3 Weekends/12 Shows)
July 20-August 5: Fridays @ 8pm • Saturdays @ 3pm & 8pm • Sundays @ 3pm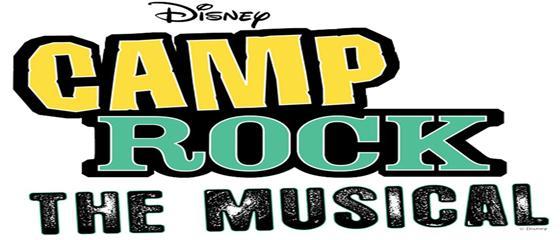 DISNEY'S CAMP ROCK: The Musical (Youth)
---
AUDITIONS: May 21 • Time: 5:30-8:30. Please plan to stay for the duration of the audition.
AGES: 10-19
*Please prepare a song from a musical (Disney, Broadway, or from the show itself). Bring accompaniment on a smart phone / tablet / CD. No accompanist provided. No a capella.
Be prepared for a dance audition and to read lines from the script!
REHEARSALS: July 28, 9am-1pm, July 30 – August 3 9am-5pm, August 4 9am-1pm
TECH WEEK: August 6, 7, 8, 9 5pm-9pm
PERFORMANCES: (1 Weekend/4 Shows)
August 10-12: Friday @ 7:30 pm • Saturday @ 3:30 pm & 7:30 pm • Sunday @ 3:30 pm
Director/Choreographer: Annelea Bootle
Music Director: Sarah Patterson

TUITION: $350, due after casting. There is no fee to audition. Tuition assistance available via the Kristin Hurter Memorial Tuition Assistance Fund (click this link for more information), work/study program, or the Janie Seymore Memorial Scholarship Fund. Please email sarah@inspirationstage.com for more information on these programs.
ABOUT THE SHOW:  Disney's Camp Rock: The Musical, a combination of The Disney Channels "Camp Rock" and "Camp Rock 2: The Final Jam" (starring teen idols, Demi Lovato and the Jonas Brothers) will fire up your stage with over a dozen songs, including "This Is Me," "Can't Back Down," "It's On" and "We Rock." A classic story of rivalry and power, Disney's Camp Rock: The Musicalopens with Mitchie and her friends arriving at Camp Rock, ready to spend another summer jamming out and having the time of their lives. But the new, flashy Camp Star across the lake now threatens Camp Rock's very existence. To keep the doors open, Mitchie steps up, rallies her fellow Camp Rockers and gets them into top shape for the ultimate showdown!